Welcome to the Carrollton Citizen Police Academy Alumni Association
and Home of the Carrollton Citizen Patrol
Helping to make Carrollton, Texas a Better, Safer Community
We are a not-for-profit, all volunteer organization of trained Carrollton Citizens who support the Carrollton Police Department.
<More>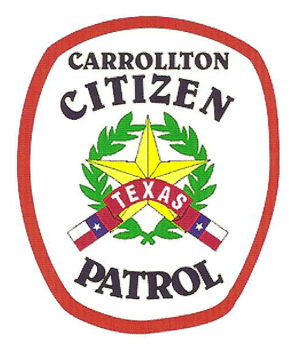 As a part of the Carrollton Citizen Police Academy Alumni Association, the Carrollton Citizen Patrol Members are the extra eyes and ears for the Carrollton Police Department.
<More>
<How to Join>
<Slide Show>
What's New
Volunteers of the Year

Carrollton Police Volunteers of the Year, on CPD Facebook. Includes Judy Lyle as Volunteer of the Year.
Take a look

T Shirts are available

T-Shirts are available for sale
. Both black and pink are available. Available in the
Store
. Sponsors: Shotgun Blasters, Hawk Residential Roofing, Inc, North Texas Heart Care, Star Car Wash, Wright Group Architects. Planners, Eggsellent Cafee, Pizza Hut, Mom's Cafe, Shipleys Donuts, J& B Mobile Power Wash, Silver Star Mercantile, VFW 2923, Chicken Express and Uniform Store.
No Solicitation Signs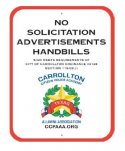 No Solicitation Signs for sale
. Signs are available for a minimum donation of $10.00. CCPAAA is a tax exempt 501(c) 3 organization. The signs are available in the lobby of the Carrollton Police Department located at 2025 East Jackson Road on Monday evenings between 5 and 6:30 PM or to order them on our website,
<More>
Rewards Programs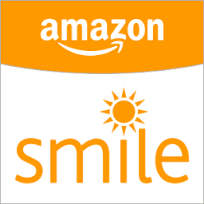 Using the
Amazon Smile
program, a percentage of each of your purchases can be donated to CCPAAA.
This does not cost you anything and functions the same as amazon.com, even works for Amnazon Prime members. Just use
smile.amazon.com
rather that www.amazon.com.
This is a very easy way to help support CCPAAA.
Also, rewards from Kroger, Tom Thumb and Albertsons can also be used to support us.
Upcoming Events and Fundraisers
04/21/17 - Chicken Express 11am to 8pm
Every month is a success at Chicken Express; we will continue this on the every third friday of each month. Chicken Express located at 1529 W. Hebron Parkway. Please make plans to come by and help us with our fundraising. Put an recurring entry in your calender.
Facebook/Twitter - How Too
How to sign up follow and foward CCPAAA post and Tweets.
Documentation